Every world cup goes eventful. But this one was different. Here I am posting some of the events from my memory. Readers, please add to them. The events are not necessarily in the right sequence.
1. Fire in the hotel where the Paksitan team stayed: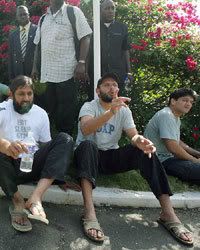 It was bizzare to see something like that happening. Preceeding this were the small incidents like a plane crash close to the Australian's hotels and a side screen turning over. But this one sure felt strange as we saw images of Pakistani players sitting outside the hotel waiting for updates. It turned out to be a gas leak. It was the beginning of a series of strange events to follow.
2.Pakistan lost to debutant Ireland and got knocked out of the world cup
:
Not too many expected a great performance from the injury depleted Pakistani team. But it was really shocking to see them lose to Ireland, a debutant team. The Pakistani team did everything wrong in that match. Having lost the earlier match to host West Indies, Pakistan got knocked out of the tournament. This loss triggered a series of remarkable events that have already changed the face of Pakistani cricket.
3.Pakistan coach Bob Woolmer found dead in his hotel room:
: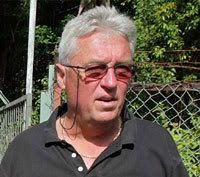 Definitely the most shocking incident in the history of the game. Bob's murder still remains a mystery and I hope that the murderer is caught and brought to justice soon.
4. India lost to Bangladesh
:
The same day as Pakistan lost to Ireland, India lost a game to some very brave cricket from Bangladesh. That was India's first game and after that loss, India's chances were very low. Back home people stoned Dhoni's underconstruction house.
5. Gibbs hit six sixes in an over
This world cup saw some really inspiring hitting. Gibbs's name went down the record books alongside Sobers and Ravishstri for hitting six sixes on one over.
6. India made record score against Bermuda
: Having lost to Bangladesh in the first game, India showed their might on the poor underdogs. With some inspiring hitting from Yuvraj Singh and Sachin Tendulkar, Indian made the highest score ever in the history of world cup of 413 runs. The winning margin of 257 runs was also written down in record books.
7. Anil Kumble announced retirement
Anil Kumble, one of the finest bowlers of the era took retirement from cricket. We might not have noticed his retirement that closely in the heat of the cup, but he was a unique bowler of his own type and I doubt another one like him will ever come. Wishing him good luck with his life.
8. Greg Chappell resigned after a war of words with Sachin Tendulkar:
After India's loss started the blame game. India's coach Chappell blamed it on the senior players and Sachin Tendulkar, for a change, decided to speak out. Then Chappell resigned.
9. Inzamam resigned:
The same day when Bob's dead body was discovered, Inzamam also declared his resignation from captaincy and his retirement from one day cricket.
10. PCB Chief offered resignation:
But the president of Pakistan rejected his resignation and asked him to continue. Pakistan's entire selection committee resigned.
11. Ireland, a debutant team entered super eight:
It is a matter of pride for Ireland that they made it to the second level on their very first world cup. They also managed to win against a test playing team- Bangladesh.
12. South Africa lost to Bangladesh:
The upsets were not over yet. South Africa, one of the strongest contenders lost to Bangladesh. Bangladesh proved it to all those who called their victory against India a fluke.
13. Brian Lara announced retirement:
An era came to en end. One of the finest batsman in the history of the game,Brian Charles Lara announced his retirement.
14. Ireland team manager died:
The same day when Bob's body was found, Ireland's team manager also expired.
15. Fleming resigned from ODI captaincy:
Arguably the best captain of recent times, Stephen Fleming also decided that it was time to hand over the job to someone else.
16. Duncan Flethcher resigned:
England didn't have a great show this world cup and Fletcher's resignation was expected.
17. Whatmore quit as coach:
Bangladesh coach Whatmore, after the impressive performance performance of his team, decided not to extend his contract as captain. But he did express his desire to work with India.
18. Malinga took 4 wickets in 4 balls:
That was sensational. He almost won the match for his team. Malinga will remember that for a long time.
19. Glen McGrath retired:
Arguably one of the best fast bowler ever, Glen McGrath, having made the world record for the highest number of world cup wickets, retired from the game.
20. Final ended in a low light drama:
Sri Lanka's last three overs in darkness was not the best way to end the world cup. But this certainly is much smaller than what all happened during the world cup
I have listed down as many as I could remember. Please add to it.